Admissions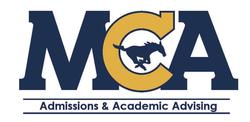 Welcome to McKinney Christian Academy Where Faith Comes First!

Application Deadline: Applications for the 2021-2022 school year must be submitted by August 1, 2021.
When to Apply
Please reivew the Admissions Policies and MCA's Statements of Philosophy before starting an application. Click here for Admissions Policies. Click here for Statements of Philosophy.
Applications open each October for the upcoming school year. Current MCA students will be given first priority. Then, new applicants will be offered acceptance, pending meeting all admissions requirements, the completion of the admissions process, and availability. A non-refundable fee of $200 must be submitted with each application. International applicants will submit a non-refundable fee of $350 with each application.
If you are not ready to start an application but would like more information about MCA, please
Request Information
and our Admissions Office will contact you.
How to Apply
1. Online Account
Non MCA Familes: If you are not an existing MCA family, select Create an Account from the menu located on the left.

Current MCA Families: If you are a current MCA family with an existing FACTS/Parentsweb account do not create a new account. Instead, log into your existing FACTS/Parentsweb account and click Apply/Enroll then click Application from the menu located on the left.

2. Begin an Online Application/Log In
Log into your account and Create A New Student Application for your child. You will then have the flexibility to log in and out of your account and access your open application. After submitting the application, you will be able to track online your admissions status by logging into your account.
We Look Forward to Meeting You
I invite you to attend one of our upcoming Admissions events. These are a great opportunity to experience our commitment to excellence and see the spiritual emphasis that is interwoven through every aspect of our school. Click here for additional information.
Student Visit "Shadow Day"

Student Visit - Typically Shadow Days are scheduled upon receipt of Application and all required documents for applicants applying to 3rd grade and above during the months of October-April. At this time our Shadow Days are on hold. When this status changes, Admissions will look at each applicant case by case to determine if/when we can accommodate a Shadow Day. So, in lieu of our traditional Shadow Day, we would like to offer a personal tour for your student when they come for their Admissions testing. This will allow them to personally ask any questions as well as witness firsthand our amazing MCA community that God has so graciously blessed us with!
I look foward to meeting you and working with you in the Admissions process!
Sincerely,
Elaine Mayberry
Admissions Director
214-504-7235
McKinney Christian Academy admits students of any race, color, national and ethnic origin to all the rights, privileges, programs, and activities generally accorded or made available to students at the school. The Academy does not discriminate on the basis of race, color, national and ethnic origin in administration of its educational policies, admission policies, scholarship and loan programs, athletic and other school-administered programs.